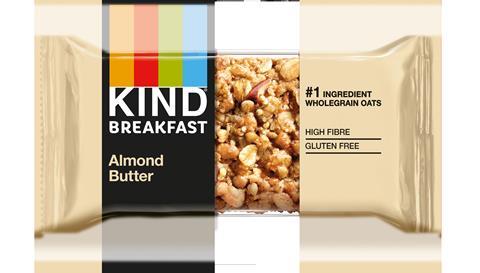 Healthy snack bar brand Kind has introduced a new flavour - Kind Breakfast Almond Butter. The bar is available in single (RRP: £1 for a 40g bar) and multipack formats (RRP: £3 for 4 x 30g pack.
Pitched as 'breakfast without the bowl', the new product has been designed to appeal to the consumer looking for a healthy, on-the-go breakfast option.
UK marketing director John McManus said: "We know there's huge popularity for nut butters and we're really excited to be able to incorporate almond butter into our latest launch.
"Following consumer research we're changing the format slightly, with the revised range offering one larger 40g bar in each single serve pack as opposed to two smaller bars. We're really excited to see the new variant roll out nationwide and it's fantastic to have such strong support from our retail partners to enable us to do this."