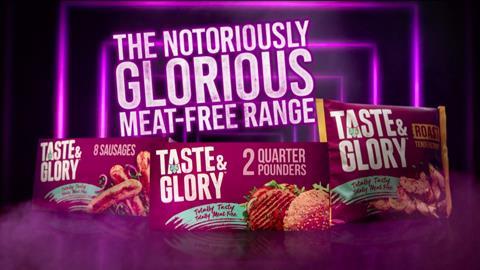 Kerry Foods' 100% meat-free brand Taste & Glory has launched a £1m 'Notoriously Glorious' marketing campaign.
Running from July to September with a 90s hip-hop vibe and the brand's plum and teal colours throughout, the campaign champions Taste & Glory's signature offerings.
Taste & Glory will be featured on the side of 300 London buses for two weeks as well as being part of a sampling campaign with 200 micro influencers to further raise awareness of the range and drive shoppers in-store with a combined reach of over 16 million.
"This hip-hop inspired campaign that celebrates great tasting meat-free food is just the beginning of Taste & Glory's exciting evolution," says Alison Lees, marketing manager for Taste & Glory. "With our amazing 100% plant-based products taking centre stage, we're showcasing the dedication to flavour that Taste & Glory has as well as the amazing growth of the brand. We look forward to exciting shoppers to discover our full portfolio of delicious meat-free swaps, perfect for every mealtime."