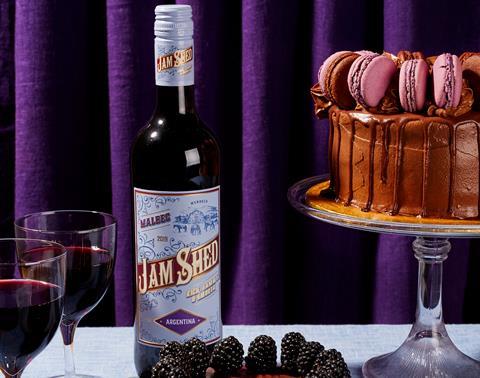 Accolade Wines brand Jam Shed has launched a new Malbec variant to its range.
Available from August 2020 with an rrp of £7, Jam Shed Malbec is designed to tap into the growing consumer demand for Argentinian Malbec, the third most popular red varietal in the UK. The Malbec category is worth over £277m and is growing at a rate of 19.3% - faster than any other variety within the top 20, according to Nielsen data.
The new Jam Shed Malbec is aimed at casual wine drinkers and is positioned as an accessible version to introduce new consumers to the category. It can be enjoyed at room temperature or served slightly chilled as a great accompaniment to barbeque, steak, or hard cheese courses.
Brand manager at Accolade Wines Lindsay Holas said: "Jam Shed has been a runaway success since its launch, with its sweet flavour and irreverent brand look and feel appealing to casual wine drinkers. We have a higher brand loyalty than our competitors, so we're confident this launch will support wine sales for retailers.
"Jam Shed Shiraz is the fastest growing wine in the top 50 UK wine brands. We have sold over three million bottles a year in the UK of our debut Shiraz and with Malbec continuing to increase in popularity, the time is right to introduce a new variety to the Jam Shed family. The new affordable Malbec will appeal to our loyal customers, who we know are open to trying new flavours, as well as to those new customers wanting to try it for the first time."