Jägermeister is introducing its first cold brew coffee product into the UK convenience channel, backed by a 'New Mix New Beat' ad campaign.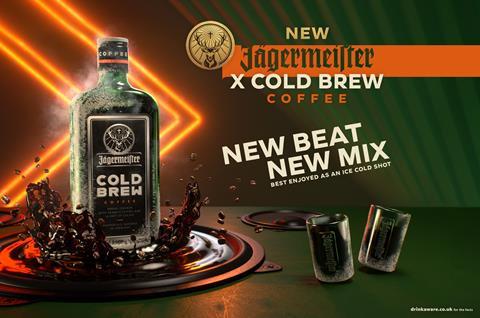 Available to independent retailers now, the innovation sees the Jägermeister recipe of 56 herbs and spices added to cold-brewed Arabica coffee and cacao to create a new Jägermeister ice cold shot with a barista twist.
The launch of the cold brew coffee is being supported by a £2.5m marketing campaign including national advertising. The 'New Mix New Beat' activity will air across both out of home and digital channels and is expected to reach over 50% of 18-34 year old consumers.
Tim Hawley, UK innovation controller at Mast-Jaegermeister UK, said: "We've been developing Jägermeister cold brew coffee behind the scenes for a number of years, working alongside expert baristas, roasters and barmen through many iterations to create a perfectly balanced fusion of original Jägermeister. Jägermeister cold brew coffee has an intricate coffee flavour profile complemented by the classic Jägermeister taste – served perfectly as an ice-cold shot."
Nicole Goodwin, marketing director at Mast-Jaegermeister UK, added: "Jägermeister continues to be a key ingredient for 18-34 year olds' best nights out and with Jägermeister cold brew coffee we stay true to our progressive nature, always look at introducing new ways to help consumers discover and enjoy the brand. We're committed to a wide-scale launch and look forward to supporting our partners in the on- and off-trade, particularly in the run up to the crucial Christmas and New Year trading period."
Wolfgang Moeller, vice president for global brand marketing at Mast-Jaegermeister SE, commented: "Jägermeister cold brew coffee fits seamlessly into our product portfolio. This new product will strengthen our position as the world's leading liqueur brand. We are combining tradition and innovation, while reinforcing our status as the number one shot brand in the world."
Jägermeister cold brew coffee comes in 50cl bottles with an rrp of £18 and abv of 33%.