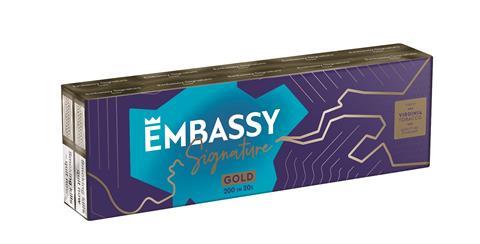 Imperial Tobacco has announced the launch of the new Embassy Signature range.
The Embassy Signature range, available from the end of November, comprises Gold and Silver variants. Both Embassy Signature variants will be available to buy with an MRRP of just £9.30 per pack of 20s. Embassy Signature Gold is also available in packs of 100 at an MRRP of £46.50.
Market manager UK at Imperial Tobacco Chris Street said: "Through our new Embassy Signature range, we have created a superior modern tobacco blend using our finest materials to give the best smoking experiences for consumers looking for exceptional quality but at a decent price point.
"The Embassy brand has enjoyed continuous growth over the last 12 months and with the sub economy sector worth almost 60% of the total FMC market, we're confident the launch of our new Signature range will drive further sales momentum in the months to come. Not only does the range benefit from all the characteristics of a premium FMC product and the familiarity of the Embassy brand name, but it also offers exceptional value for modern shoppers, and importantly increased profits for our trade customers."