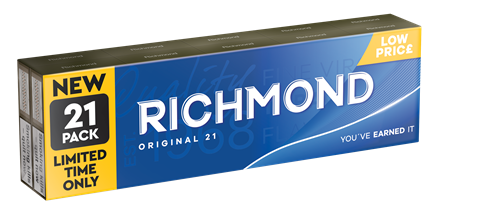 Imperial has launched a bigger box format with limited edition 21s packs across some of its leading products exclusively for the independent channel.
Rolling out into independent stores from April, the limited-edition range of 21s packs will be available across a number of Imperial's brands including Players JPS, Richmond, L&B Blue and Lambert & Butler. The blends used are exactly the same as comparable products already on offer from each brand.
The new bigger box range of 21s will be available to buy with a MRRP of £9.75 for Richmond, £10 for Players JPS and L&B Blue, and £10.80 for Lambert & Butler.
Tom Gully, consumer marketing manager UK at Imperial Tobacco said: "Driving value for our customers remains a top priority for our business. Through this latest launch, we're offering the same popular blends at great value price points, but in a bigger box format for consumer convenience. The new 21s packs will be available for a limited time only, so we'd recommend retailers stock up now to take advantage of the new format while they can."