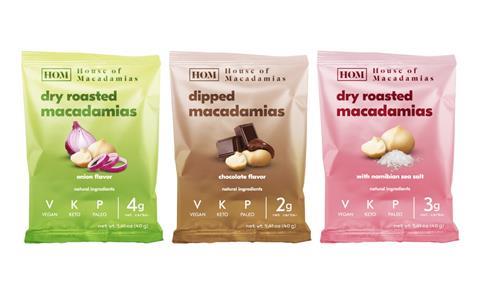 Premium snack brand House of Macadamias is to launch in the UK.
Available from July, the choc-dipped variants have an rrp of £3.16 for a 40g pouch while the savoury variants have an rrp of £3.
House of Macadamias spokesperson Carmen Hiemstra said: "Macadamias are a veritable goldmine of buttery textured goodness, an under-appreciated superfood packed with beneficial anti-oxidants, minerals and healthy fats, that's low in carbs and lectins but high in beneficial fibre. Macadamias are also higher in beneficial omega 3s than avocados and olive oil whilst low in omega 6s.
"The UK is a vibrant foodie marketplace we've admired from afar for some while," added Carmen. "Which is why we believe our latest proud high street listing is merely the next stepping stone in our ongoing quest to forge better-for-you snacking unions with the UK's leading health-conscious retailers, independents and wholesalers."