Horlicks is giving its range a fresh look to coincide with the launch of a new campaign designed to increase brand awareness.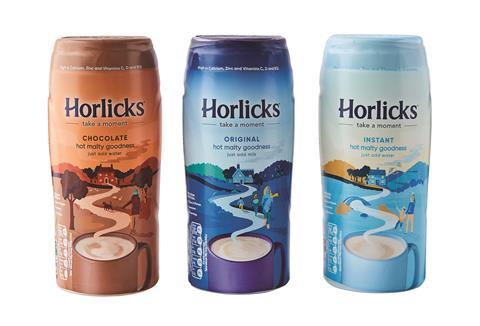 Rolling out from September, the updated packs feature the tagline: 'Take a Moment' and draw on the heritage of the Horlicks brand, as well as introducing new artwork to give the range a contemporary look.
The Horlicks range consists of five skus: Horlicks Original; Horlicks Instant; Horlicks Chocolate; Malted Milk Pods; and Chocolate Malt Pods (launched in March).
The range is made with British wheat and barley and a mix of 14 vitamins and minerals. This formula is communicated more clearly on the new packs however the recipe for all products remains unchanged.
Michelle Younger, marketing manager for Horlicks, commented: "A pre-conception of Horlicks is its strong association with sleep but general relaxation is a more important driver for consumption. A considerable 44% of users say general relaxation is their reason for consumption."
The Horlicks redesign will be supported by a new marketing campaign including experiential advertising, in store activation as well as PR and digital communications, which are expected to reach more than 20 million consumers.