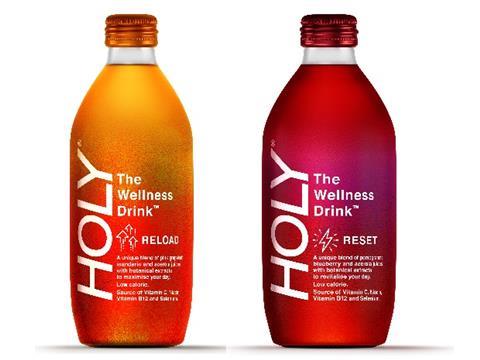 Italian beverage HOLY – The Wellness Drink has launched into the UK with a two-flavour range now available to convenience stores.
The Reset variant blends pomegranate, blueberry, lemon and acerola juices, while Reload blends pink grapefruit, mandarin and acerola juices.
The drinks come in recyclable glass bottles and is currently stocked in Bestway Wholesale, Tree of Life, CLF, best-one and other convenience stores, with a planned listing on Amazon in October. The bottles have an RRP of £1.69.
Chas Loze from HOLY said: "It's a really exciting time to be launching HOLY – The Wellness Drink to the UK market. The healthy drinks sector is booming in the UK and we're incredibly excited to be part of that growth. Following our success in Italy, we're confident that HOLY – The Wellness Drink will both challenge and innovate the market in the UK, giving consumers more options as they prioritise their health."