Hellmann's is helping retailers to tap into demand for big night in occasions with its new range of sauces designed to cater for these popular events.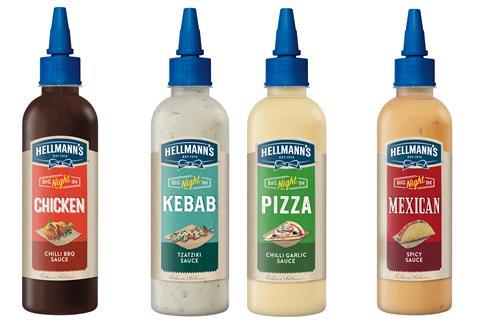 Rolling out nationwide, Hellmann's new big night in range features four flavours, which can accompany some of the nation's favourite food choices including: Pizza (Chilli Garlic Sauce), Chicken (Chilli BBQ Sauce), Mexican (Spicy Sauce) and Kebab (Tzatziki Sauce).
The range has been created based on the insight that consumers, especially those aged 16-35 years, are swapping nights out for nights on the sofa in front of the TV with a takeaway or home cooked fakeaway (The NPD Group, April 2018).
Hellmann's new big night in line-up comes in a deli-style 215ml bottle to reflect the brand's heritage and the premium nature of the product. The nozzle allows consumers to drizzle each sauce over their chosen food and both the bottle and lid are fully recyclable (rrp £1.89 each).
Andre Burger, vice president at Unilever UK & Ireland, said: "The big night in trend is hard to ignore – millennials and Gen Z are swapping their partywear for pyjamas. Whether it's staying at home on the sofa binge watching Game of Thrones, or hosting a dinner party for friends, the home is now the centre of the action for these consumers.
"We know that a huge part of the 'big night in' occasion is food, whether that's people ordering a takeaway or creating their own fakeaway – food is at the heart of these evenings. Our new range of sauces can offer consumers exciting new flavour pairings for dishes that are typically served up on a 'big night in' occasion. Food brings people together and we love being part of that.
Burger added: "The takeaway delivery market has seen staggering growth over the past decade and is now worth an estimated £4.2bn (The NPD Group, April 2018), the new range is set to tap into this growing opportunity, so we would encourage retailers to stock up now in order to benefit."