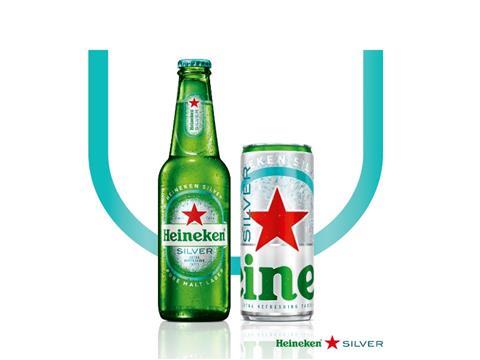 Heineken hopes to reinvigorate the lager category for Gen Y and Gen Z drinkers with the launch of Heineken Silver.
Heineken Silver is billed as an extra-refreshing lager at 4% ABV and is made using an ice-cold brewing process at -1°C for "a crisp flavour and subtle finish", with a low bitterness of 10 IBUS (International Bitterness Units) offering a lighter drinking profile. Heineken Silver aims to deliver a "premium offering and a more accessible taste that will drive appeal and sales among younger adult drinkers". An additional one million HLS sales opportunity has been identified by Heineken for the wider launch of Heineken Silver, which will be made available in 14 countries this year including the United Kingdom, Spain, France, Italy and the Netherlands.
Heineken Silver will be available across UK grocery, convenience, and wholesale from 21 March in 4x330ml bottles (RRP £4.50), 12x330ml bottles (RRP £12.00) and 6x330ml slim-line cans (RRP £5.50).
Heineken will support the launch of Heineken Silver with a £20m campaign across on-trade and off-trade.
Alexander Wilson, Category & Commercial Strategy Director – Off Trade, Heineken UK, said: "Our research shows growing popularity for premium and lighter style drinks, particularly among Gen Y and Gen Z drinkers who are looking for better quality beverages while also moderating their alcohol intake. As lager under-indexes with Gen Y and Gen Z drinkers, the opportunity is to add lager to their shopping baskets. Heineken Silver offers these drinkers a more inclusive and accessible taste that also meets their needs for a more refreshing lager, opening up new opportunities to drive incremental sales for retailers."