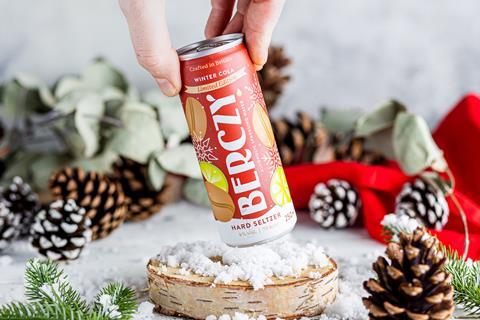 Berczy, one of the UK's first hard seltzer brands, is launching a limited edition flavour ready for the winter season.
'Winter Cola' combines all-natural kola nut & lime, with their four-times distilled spirit and British sparkling spring water.
"We are bringing together a number of flavour trends into our first limited edition flavour, with natural cola becoming increasingly prevalent in soft drinks. After 6 months of research, development and taste testing, we have delicately balanced the flavours of kola nut and lime into an all natural, refreshing and light alcoholic drink for the colder months," said co-founder, Nick Graham.
"Hard seltzer is often seen as a summer focussed drink, but we are looking to change that perception with the British public. We are also really excited to launch our new flavour into exclusive 4-pack multi-packs, a format that is becoming increasingly popular," Graham added.
Berczy's new Winter Cola 4-pack have an RRP of £11.95.