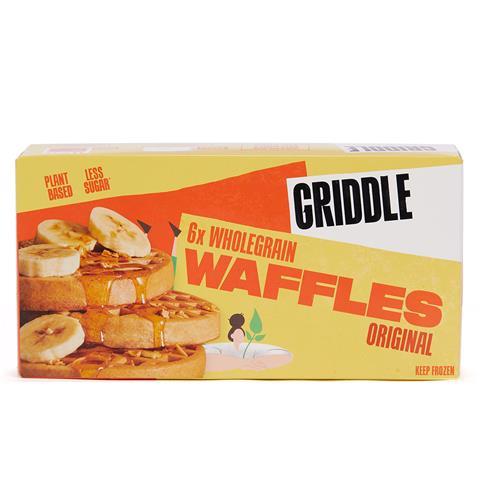 Griddle has introduced a selection of toaster waffles to its portfolio.
Designed for the toaster and ready to eat in less than two minutes, they are not only HFSS compliant but also vegan, containing no artificial colours, flavours, or preservatives.
The listings follow recent investment news as the brand closed a £400K seed funding round following its pivot into frozen plant based bakery. The money will be used to support their expansion in the UK.
Launched to market in 2019 by ex Vita Coco and Pip & Nut employees Sophie McGregor and Ella Harland, the brand is already available in Sainsbury's, Whole Foods and Amazon Fresh.
McGregor said: "We're so pleased to have the support of both Morrisons and Ocado as we start to build distribution for our frozen range. As well as driving sales, these new national listings are integral in helping us build our overall brand awareness as we focus more on our frozen product portfolio, which we believe is our future."
Harland added: "In the US, the market for toaster waffles is worth over $2.6bn, yet here in the UK there is a limited range of highly processed, ambient products which are poor quality and have a short shelf life. We believe that with the help of our retailer partners, we can bring something truly innovative to this market. The launch is also a key next step towards achieving our overall aim; to become THE household frozen bakery brand."