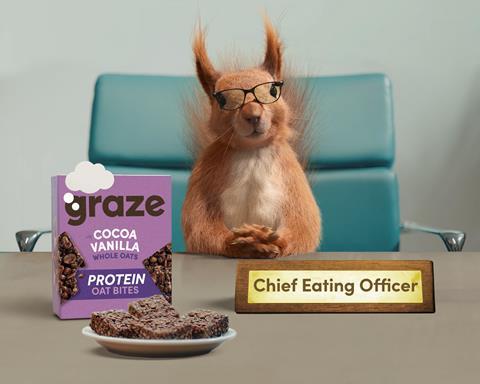 Healthy snacking brand Graze made its TV debut with an ad for its retail range as part of a £5m media value plan for 2021 - the brand's biggest investment to date. The ad is set to reach around 40 million shoppers, equating to 80% of UK adults, as it looks to recruit new grazers to join its loyal customer base.
The first burst of the advert will run between now and July and gives viewers a fun behind the scenes glimpse into the breakthrough work going on at the Graze HQ, starring the newly appointed Chief Eating Officer (CEO) - a trusted squirrel! The ad marks the debut of the brand's furry 'CEO' who is passionate about 'Graze ideas', making snacks that help people enjoy healthy living every day.
The other star of the ad is the brand's Cocoa Vanilla Protein Oat Bites. Viewers will see the healthy cereal bar range get the seal of approval from the CEO as it contains 45% less sugar than the average cereal bar, while maintaining great taste.
Pia Villa, chief brand officer at Graze, said: "For us it's not enough to be merely healthier than unhealthy snacks, we want our snacks to be as healthy as they can possibly be, whilst never compromising on taste. And within cereal bars, this means offering snacks that are crammed full of delicious, natural ingredients but with nearly half the sugar level of the average bar.
"With health front of mind and more people looking for healthier snacking alternatives, now is the right time for us to be ramping up the awareness of our Graze retail range. This new campaign will see us reach 80% of UK adults, helping us on our mission to grow our loyal fan base of grazers by highlighting how we can help them enjoy healthy living every day."
Shoppers see sugar as the number one barrier in the cereal bar category (Graze online health survey – Jan, 2020) and as part of its health promise, Graze removed a massive 160 tonnes of sugar in 2019 from its cereal bar range.
Graze has also recently received its B Corp certification, which sees it join a strong line up of businesses who are committed to being a force for good in the world when it comes to people, planet and profits.