Graham's the Family Dairy has launched a range of Skyr yogurt pouches, initially available exclusively through Scottish Spar stores supplied by CJ Lang.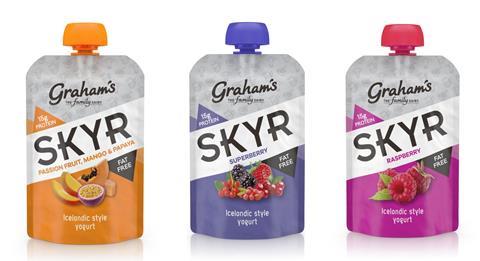 Graham's Skyr is fat free, high in protein, and has 30% less sugar than other flavoured yogurts in the market, the company claims. Containing only 130 calories per 150g pouch, they are positioned as ideal for a healthy breakfast or snack on the go.
The new Skyr pouches are available in three flavours - passion fruit, mango & papaya; raspberry; and superberry. They are available now at the special launch price of 75p (normal rrp £1).
Skyr is a cultured dairy product native to Iceland, and is made from skimmed milk with nutritional properties similar to Greek yogurt. Graham's Skyr is made with Scottish milk from 110 of their farming partners, with added live cultures and fruit.
Robert Graham, md at Graham's the Family Dairy, said: "We are incredibly proud to introduce customers to our Skyr in a new pouch format with CJ Lang in Scotland, through Spar stores. Skyr is our best performing new product launch and this new pouch format is in direct response to the growing customer demand of functional and healthy 'on-the-go' snack choices."
Colin McLean, ceo at Spar Scotland, added: "We are delighted to be chosen by Graham's to be the first retail outlet in Scotland to sell their new Skyr pouches.
"Being the first retailer to sell this exciting new range from Graham's the Family Dairy gives us a huge competitive advantage. It enables our Spar stores to establish strong brand recognition and customer loyalty before the roll out to other retail outlets across Scotland.
"Graham's Skyr handy 150g pouches are a great 'on the go' product and a perfect addition to our Spar stores."
Spar Scotland will be supporting the launch with in-store marketing collateral and on all social media channels.