Golden Wonder has joined forces with Deliveroo for its latest on-pack promotion, to give consumers the chance to win up to a year's worth of free takeaways.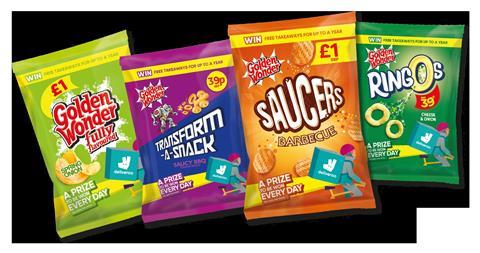 The Great Golden Wonder Takeaway Giveaway will be rolling out across over 25 million packs of crisps and snacks from 1 April to 31 July.
The promotion is being supported across TV, cinema, online and social media.
Golden Wonder will provide POS solutions and a direct mail offer to over 12,000 independent retailers with exclusive money-off offers.
Golden Wonder marketing director Matt Smith said: "We are thrilled to be teaming up with Deliveroo to present this fantastic prize offer, in what is their first on-pack partnership with a snack brand. Customers will have the chance to win free takeaways for up to a year with one winner chosen each day.
"And in 2020, we are extending the campaign with the promotion featuring on the best-selling packs across our Golden Wonder Crisps, Ringos, Transform‑A‑Snack and Saucers product ranges."