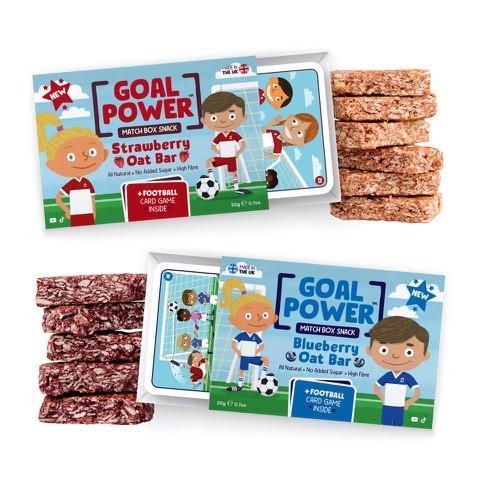 Children's wellness brand Goal Power has kicked off with the launch of a new range of oat bars.
Suitable for lunch boxes or on the go snacking, the fruity oat bars (rrp: 99p) come in two flavours: Strawberry and Blueberry, and are made using 40% British wholegrain oats, creamy coconut, dates, pea protein, crunchy sunflower seeds and fruits. They are all natural with no added sugar, are high in fibre, gluten free, palm oil free and made using a nut-free recipe.
Designed as part of a larger initiative to get kids up, out and active, each Goal Power pack also includes a fun football card game with football facts and skills to learn, all presented in a cute, cartoon artwork box.
"We've launched Goal Power as a wellness snack brand that aims to reset our kids' daily routines and help them feel better about themselves. Alongside a healthy and nutritious oat bar, the football cards provided encourage them to set their own goals and reinvigorate their enthusiasm for learning, playing and having fun," explains founder, Matt Hunt.
Goal Power is aligned with the Common Goal charity, which aims to empower, inspire and enhance lives through football, as such the brand will donate 1% through the company and 1% of all the salaries taken by its employees, now and in the future to help fund Common Goal's work.