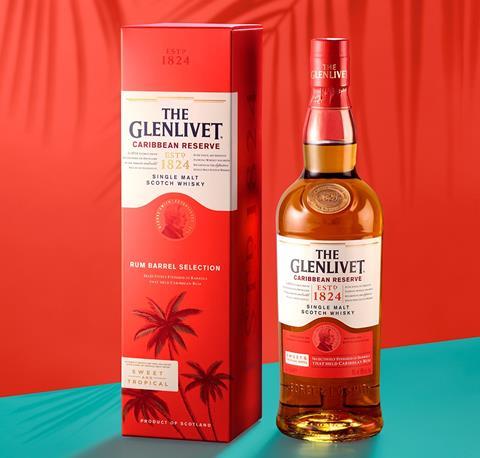 Pernod Ricard UK has launched its first-ever rum barrel finished single malt.
The Glenlivet Caribbean Reserve in the UK is the brand's first single malt to be selectively finished in rum barrels.
Initially available from Tesco, Sainsbury's, Waitrose, Morrisons, Coop and Amazon at an rrp of £38.59, the Glenlivet Caribbean Reserve will be available through Imperial, Crown and Elbrook in the coming months.
The launch is being supported by a digital-led ATL media campaign, in-store activity, social media, eCRM and PR activity.
Pernod Ricard UK brand director Marnie Corrigan said: "The Glenlivet has grown +21.2% in value over the latest 12 weeksand NPD continues to grow the Single Malts category adding +12% vs. latest 12 weeks last year. The UK has a rich history of tropical takes on whisky cocktails and challenging the notion that rum is the only option for Caribbean-inspired drinks, making it the perfect market for the latest addition to our brand portfolio. The Glenlivet Caribbean Reserve is a unique proposition and the launch is an important next step in our 'Original by Tradition' platform, to reinforce our innovative credentials and to recruit new-to-category drinkers."