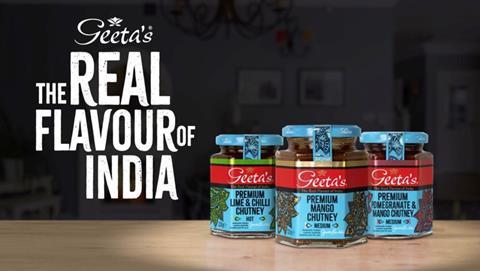 Indian food brand Geeta's is launching a new TV ad campaign to emphasise Geeta's authenticity and versatility.
This is the second TV ad created for the brand and will run on Sky until 20 March. The 'Real flavour of India' campaign is part of a half-a-million-pounds brand investment for 2022 across TV, digital, social and PR.
The first TV campaign in the summer of 2021 saw Geeta's sales up 17% on the previous year.
Nitesh Shah, business development director, said: "2021 was a hugely successful year for Geeta's, with 50% sales growth, taking us to being a £6million brand. Not only did we witness an attitude shift amongst consumers towards Indian cooking and Indian flavours outside of the traditional curry meal occasion, but consumers also chose to recognise the true authenticity of Indian brands on the supermarket shelf.
"Which is why, for our latest TV campaign, we felt it was important to reinforce what makes Geeta's the Real Flavour of India. Our Premium Mango Chutney is the UK's best-selling Indian chutney and the secret to our success is that we're still making it in India, inspired by the original family recipe where the mangoes are grown, and the spices are expertly blended, delivering a flavour and quality standard which is unrivalled in the market.
"Geeta's is all about inspiring consumers to add great tasting Indian flavours to all meal and snack occasions, thereby offering retailers opportunities to boost incremental sales."