Cocktail mixer brand Funkin is supporting its Nitro Canned Cocktails with a nationwide advertising push.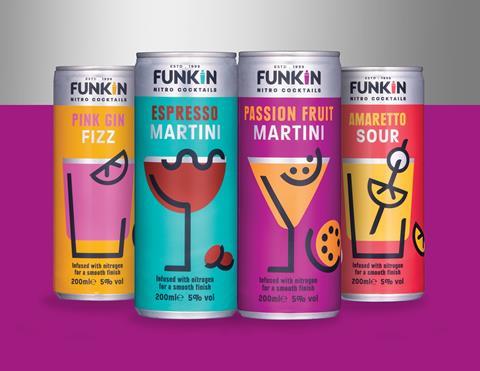 The £1m out of home and digital campaign, which will run until September, will appear across social media as well as at railway stations, roadside locations and on taxis. An estimated 7.2 million 25-44 year olds are expected to see the activity.
The announcement follows the recent launch of Funkin's Nitro Canned Cocktail range, which consists of four flavours: Passionfruit Martini; Espresso Martini; Amaretto Sour; and Pink Gin Fizz (all 5% abv and rrp £2.29).
Funkin Cocktails marketing director, Ben Anderson, said: "The launch of Funkin Nitro Canned Cocktails is another step towards us democratising cocktails for the nation. Canned cocktails have notoriously been of poor quality and our flavour expertise, cocktail knowledge and nitro technology means we are bringing the best tasting, best looking cocktails to consumers no matter where they are.
"Our advertising campaign will ensure that Funkin Nitro Canned Cocktails are seen by the nation and we would urge the trade to ensure they are stocked up, especially during the key summer season as they are perfect for outdoor events, picnics and barbecues."