Kerry Foods is mixing cheese and nuts for the latest two additions in its Fridge Raiders snacking range.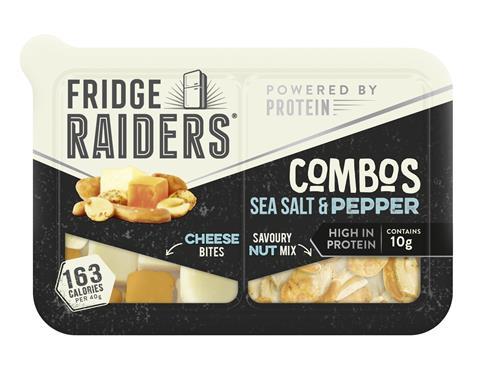 The new snack combos are made using bite-size cheese pieces, combined with a variety of savoury foods such as nuts and corn. Available in Sea Salt & Pepper and Honey BBQ flavours, the products are high in protein and contain less than 170 calories per 40g pack (rrp £1 / single or rrp £2.50 / mulipack of three).
Commenting on the launch of the new snacks, Matthew Paterson, Fridge Raiders brand manager at Kerry Foods, said: "These new combos combine two of the UK's most loved savoury snacks, cheese pieces and nuts, and can be eaten either separately or together. The convenient format can also be consumed on-the-go or as a planned occasion to satisfy that hunger gap, which often strikes in-between meals. It's a fulfilling energy fix which combats that sluggish feeling, keeping you at 100% and tasting great.
"We're excited about the launch and are feeling incredibly positive about the success it will bring following a very strong reception from both consumers and retailers during research. We've also seen similar style snacks becoming increasingly popular in the US market with brands such as Balanced Breaks by Sargenta constantly growing, so we're confident this trend will translate within the UK space. The Fridge Raiders cheese and nut combos will help strengthen our masterbrand, credibly delivering our 'powered by protein' position and elevating our quality credentials through the ingredients used."
Available from the beginning of April, the introduction of the new Fridge Raiders combos will be supported with a £1.5m spend, including TV, video on demand, digital, consumer and shopper marketing.