Speciality cheese firm Norseland has launched a new cheese bar, Amazin Grazin, for on-the-go snacking.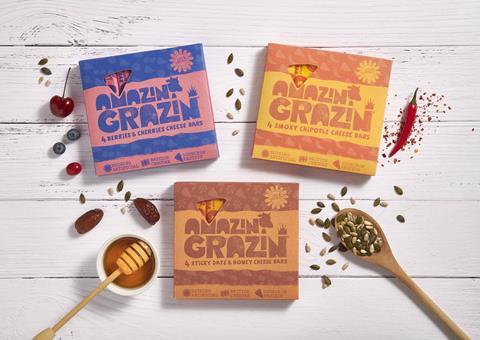 The cheese snack contains sunflower and pumpkin seeds, said to be mood enhancers, and is targeted at the young adult market looking for health-conscious snacks to satisfy their hunger and excite their sophisticated taste buds.
Norseland says Amazin Grazin is low in sugar and a good source of protein and calcium.
It comes in three flavours, in bold and colourful packaging. The variants are: smoky chipotle (spicy); sticky date and honey (sweet); and berry and cherry (fruit). Each contains Cheddar cheese and no artificial ingredients.
Rrp is £2.50 for a pack of four.
Other brands in the Norseland family are Jarlsberg, Applewood, and Mexicana.