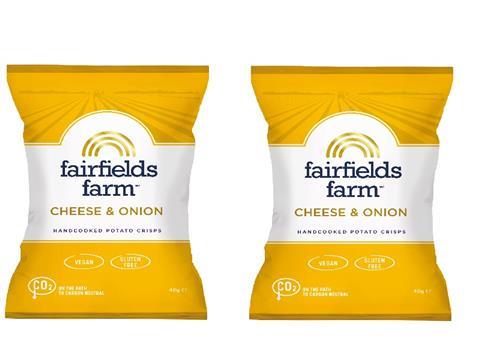 Fairfields Farm has relaunched its Cheese & Onion flavour crisps with a 100% plant-based recipe.
Launching in 40g format in March, with sharing 150g size to follow this summer, Fairfields Farm has adapted its existing Cheese & Onion crisps to create a dairy-free version that stacks up to the flavour expectations of consumers. RRP is 80p for a 40g bag, and £1.99 for a 150g bag.
Laura Strathern, co-founder of Fairfields Farm Crisps, said: "We are all very excited to introduce our new vegan-friendly Cheese & Onion flavour crisps. The demand for plant-based snack choices is greater than ever and after the success of both our Bacon & Tomato and Rib of Beef vegan-friendly crisps, we decided it was time to launch another much-loved flavour. We're particularly happy at this delicious development because it marks our brand's transition to being entirely free of dairy and meat, as well as gluten."
The new Cheese & Onion Flavour joins the full Fairfields Farm range, which includes: Lightly Sea Salted, Sea Salt & Aspall Cyder Vinegar, Bacon & Tomato, Rib of Beef, Sweet Chilli and Sea Salt & Black Pepper.