Estrella Damm is drawing on its Barcelona heritage with the launch of a new nationwide OOH ad campaign.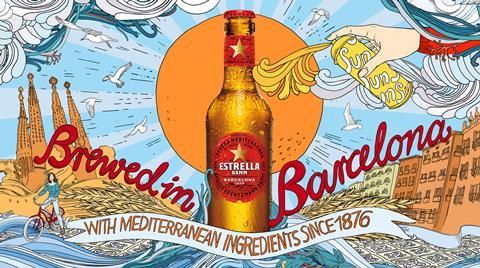 The activity, which will attempt to reinforce the brand's premium, taste and cultural values ahead of the summer season, will appear on landmark banner sites across eight key cities throughout May and June.
Estrella Damm UK country manager, James Healey, said: "Estrella Damm continues to perform strongly in the UK, with the brand outperforming the world beer category, and we expect our upcoming out of home campaign to further propel the brand into the summer months.
"We know that lager drinkers seek out Estrella Damm as a premium beer, brewed using local Mediterranean ingredients and a manifestation of the modern vibrancy of Barcelona – so this is exactly what we wanted to bring to life in the campaign. We are confident that the striking copy and landmark sites secured for the campaign will ensure that Estrella Damm stands out during the summer kick-off and continues its strong growth in the UK."