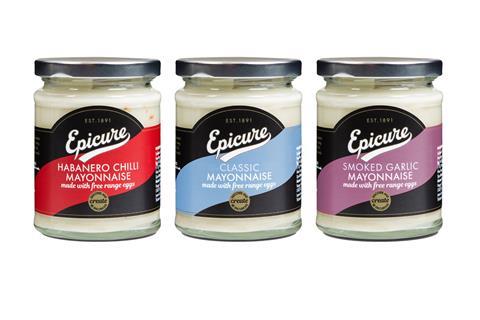 Epicure has announced the launch of three new premium mayonnaises, with a focus on encouraging consumers to trade up.
The range extension marks the first time Epicure has entered the sauces and condiments category and include a classic variety; another with smoked garlic; and a third made with habanero chillies.
Epicure's premium mayonnaises are made using free-range eggs and are sold in 245g jars (rrp £2.50 each).
Jason Beaumont, brand director for Epicure, said: "We're constantly in search of innovation and the most flavoursome ingredients to bring authentic products of exceptional quality to UK consumers. The Epicure heritage is all about sourcing the best of the best, to bring end users a product that stands out against its competitors.
"We've taken on the challenge of bringing mayonnaise into our range and we're incredibly proud of the result. Produced in small batches, made with only free-range eggs and containing nothing artificial, we have ensured that the new range of crafted mayonnaise is sourced using only the finest ingredients. Whether it's classic, smoked garlic or habanero chili, we've got all the bases covered for anyone looking to add that perfect dip, dollop or spread to their meal."