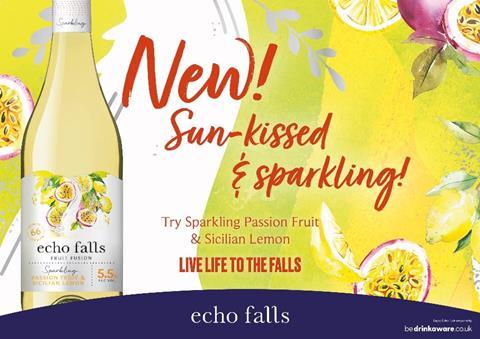 Echo Falls is to add a summer-inspired variety to its Fruit Fusion sparkling range.
The Passion Fruit and Sicilian Lemon Sparkling Fruit Fusion is launching on the 28 March with an RRP of £5.50 across grocery, convenience, and wholesale channels.
The product launch is supported by in-store advertising and digital activation, to build further awareness and excitement around the brand, whilst Echo Falls' latest campaign, 'Phone on Silent, Girls on Loud', will continue to run throughout the summer months.
Alexandra Colson, senior brand manager, Echo Falls said: "The share of sparkling fruit flavoured wine within the flavoured wine category is up by 19% in volume, compared to last year, as shoppers become more adventurous and look to expand their wine repertoire. To tap into this growth, we are extending our Fruit Fusion Sparkling range with this innovative product, which has already performed well in our consumer testing.
"Both Passion Fruit and Sicilian Lemon are ranked within the top 10 for flavoured alcohol product launches in the past five years, and by adding the Sicilian provenance, we are signalling quality to our customers. Our Fruit Fusions range is perfect for recruiting younger consumers to wine and we're confident this new variety will be a hit as we enter the summer months."