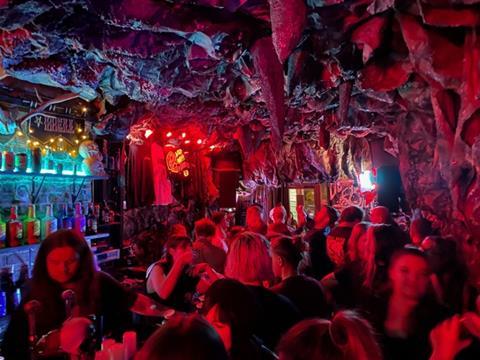 Dead Man's Fingers has announced a new partnership with Kerrang!, the weekly rock, punk and metal magazine for Kerrang!'s upcoming live gig series. The gigs will be taking place at Blondies in London and will allow 50 ticket holders a chance to see their favourite bands whilst enjoying several Dead Man's Fingers cocktails.
The Cornish-based brand are also live on radio for the first time, building brand awareness in the run up to Christmas.
Global marketing manager Rachel Adams commented: "Needless to say Christmas is a hugely important time for the spirits category, and we want to support our customers as much as possible with exciting new launches, significant marketing spend and partnerships in order to grow awareness for the brand and drive sales over the coming months.
"As the non-conformist rum of choice, we naturally love what Kerrang! represents in terms of alternative culture. We can't wait to unite rum fans and music lovers for our fantastic line-up of disruptive events, whilst also spreading the word about the quality of our rum to a wider audience through our planned radio activity, which is set to reach approximately 6.2 million consumers."
Dead Man's Fingers will have slots on Absolute radio and Planet Rock, and has also launched a limited edition bottle of its original spiced rum for the season.
Its signature bottle has undergone a Christmas makeover with the staple skull now wearing a Christmas hat, bold red type and frosty snowflakes on the bottle to ensure it stands out on the shelf.
Festive flavours of caramel, vanilla, nutmeg and a subtle orange note feature in the drink, which can be enjoyed neat or paired with other ingredients.