Dairylea is introducing three new lines across its snackers, lunchables and dunkers ranges, including its first ever price-marked (PMP) snackers offer.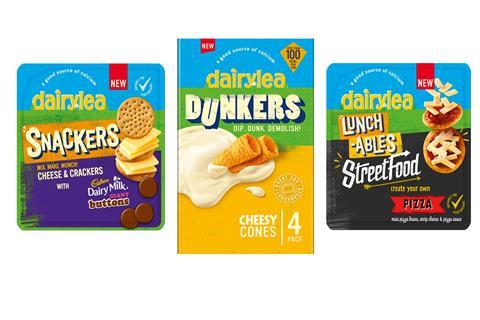 The new snackers product is available now and is aimed at those consumers looking for a different kind of kids snacks.
The 76.8g packs contain Dairylea cheese slices and crackers, with Cadbury chocolate buttons and will be available in PMP and plain pack formats (rrp £1.65).
Dairylea is also expanding its dunkers and lunchables range from the first week of April with two new launches.
The first: dunkers cheesy cones, will be introduced on 1 April in packs of 4 x 40g (rrp £2.71). Each portion is less than 100 calories, reflecting current consumer focus on health and balance.
The second innovation is a new streetfood sub-brand for Dairylea's lunchables range. Combining Dairylea with mini pizza bases and pizza sauce, the product will launch on 8 April in 65g packs (rrp £1.65). It will also be available to c-store retailers as a PMP.