Cow & Gate Baby Food is hoping to help parents introduce their child to solid food with the launch of its First Spoons range.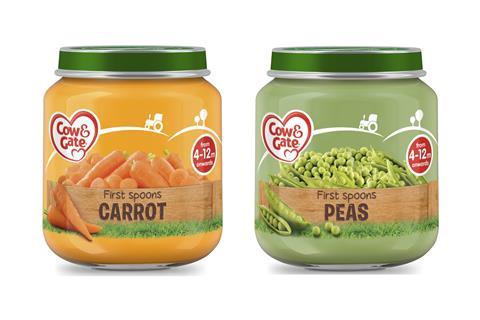 Suitable for those aged four to twelve months, the jars come in two flavours: carrot; and peas, and are made using natural, steam-cooked vegetables with no artificial preservatives or colouring.
The Cow & Gate First Spoons Peas jars are made with 66% peas while the First Spoons Carrot jars are made with 90% carrots. The products are also gluten-free and suitable for vegans.
Sandra Eglau, marketing director for Cow & Gate (Danone), said: "The first stage of the weaning journey is a critical one, as good early nutrition choices are key to developing positive lifelong eating habits. While vegetables are an essential part of a healthy, varied balanced diet, science tells us little ones are predisposed to prefer sweeter flavours, such as fruit.
"However, through the regular introduction of vegetables at a young age, parents can help their babies learn to love them. The First Spoons carrots and peas jars are a great way to start weaning, as these veggies have a naturally-sweet taste which babies love."
The First Spoons range comes in 125g formats, each with an rrp of 65p. The jars are fully recyclable and are being supported by a digital campaign.
* Breastfeeding is recommended for the first 6 months of life. The Department of Health recommend weaning at around 6 months. Please speak with a healthcare professional before introducing solid foods.