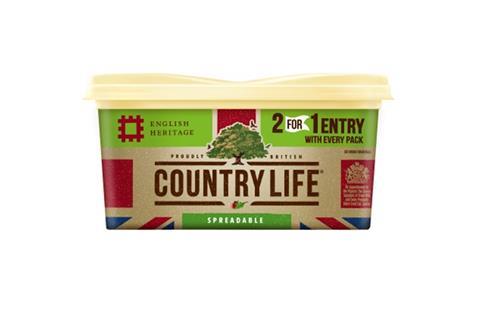 Dairy Crest's Country Life has teamed up with English Heritage and its Welsh equivalent Cadw for a year-long partnership.
The campaign, which will include a '2 for 1 entry' offer across promotional packs of Country Life, encourages shoppers to visit English Heritage & Cadw historic sites by taking advantage of the on-pack activity.
Elise Eklund, brand manager for Country Life, said: "We're delighted to be teaming up with English Heritage and Cadw to reward Country Life shoppers with this ticket offer. Together, working to conserve over 500 historic buildings, monuments, landscapes and heritage sites of England and Wales, the two organisations embody the enduring values of tradition and heritage to which Country Life is aligned.
"Having a strong affinity with our target shoppers, for whom authenticity, local sourcing and British made products play an important role in decision making, we are confident our new partners will help strengthen our unique positioning, while our impactful promotional pack design will help disrupt at fixture."
Lorna Sharps. marketing partnerships manager at English Heritage, added: "We're really excited to be working in partnership with the well-established Country Life Butter brand over the next twelve months. Country Life customers will have the opportunity to stand in the places where history happened and experience England's rich heritage through the on-pack offer. The partnership gives English Heritage a great platform to reach new audiences in retail spaces where you wouldn't expect to see the brand."
To support the on pack campaign, Country Life is also planning to run special promotions and competitions for English Heritage and Cadw members and a volunteering pledge which will see Dairy Crest staff contribute their time to support diverse English Heritage projects.
Promotional packs of Country Life, spanning 250g salted and unsalted blocks plus 250g and 500g tubs of Country Life Spreadable, are available for c-stores to stock now.