Country Life, Saputo Dairy UK's leading British butter brand, has launched a new digital advertising campaign: 'Taste the Freedom, Taste Country Life', featuring a series of adverts which will be going live across digital platforms from next week.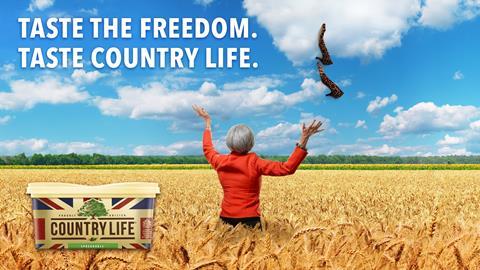 The first campaign ad was unveiled in Westminster on Tuesday 23rd July and depicts a lookalike of outgoing Prime Minister Theresa May embracing her departure from No.10 Downing Street and celebrating her new-found freedom by running through a field of wheat in the British countryside.
The advert, produced by Country Life's creative media agency UM Studios, will be displayed on digital mobile advertising boards in Westminster and across central London.
Lee Willett, marketing director at Saputo Dairy UK, commented: "At Country Life we are proud of our Britishness and countryside heritage and we have always sought to bring in an element of fun into our creative executions. From 'the Butter Men' to John Lydon, we've always looked to be bold about our ambitions; much like our brand.
"Our latest campaign 'Taste the Freedom, Taste Country Life' is no different; we're hoping to capture the attention of those considering trying something new, while encouraging the nation to embrace their second adolescence."