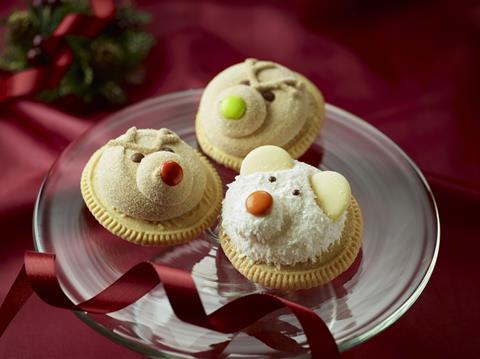 Country Choice has launched a range of sweet and savoury products for the festive season.
New to the Christmas confectionery range are Festive Friends Reindeer and Polar Bear biscuits, Gingerbread Reindeer, White Chocolate Orange Funtime Donuts, which join established lines such as Gingerbread Muffins, Chocolate Mallow Puddings, Snowman Cupcakes, Christmas Jammy Shortcakes, Chocolate Yule Log, and Crumble Topped Mince Pie.
On the savoury side, new lines include a Brie and Cranberry Turnover, a Turkey, Stuffing, Cranberry and Ham Bake, a Chicken and Stuffing Bake, and Steak and Cheese bar. Country Choice also offers two bite-sized savoury options in the form of Sausage Rolls and Cheese and Onion Rolls. The Christmas sweet pastry selection includes a Cranberry twist and a ready to bake Mulled Fruit Lattice.
Also available are ready to bake Mince Pies, thaw and serve Shortcrust Mince Pies, Luxury Mince Pies, Catering Mince Pies, Mini Mince Pies and Wrights Shallow Mince Pie.
There is also a Turkey, Stuffing and Cranberry sandwich available from Country Choice.
The brand has launched a selection of gluten free options - including Mince Pies, Iced Fruit Cakes and Chocolate Orange Tarts.