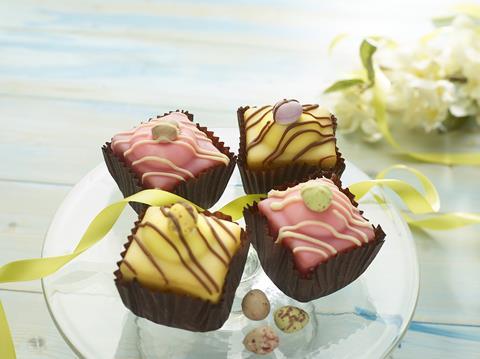 Country Choice has added Fondant Fancies to its Easter range. Available in a mixed case of 10 x 85g strawberry and lemon cakes, the Fondant Fancies have an rrp of £1.40.
Traditional Hot Cross Buns and Easter Cupcakes also return. The sweetly spiced buns are stuffed with fruit and mixed peel, packed in fours, ready to defrost, with an RRP of £1.25 per pack. The cupcakes, topped with lemon or chocolate icing and a chocolate mini egg, have an RRP of £1.40, available in a mixed case of 20.
Other seasonal returns include: the Gingerbread bunnies, the 65g rabbit-shaped, ginger flavoured biscuits decorated with sugar bean buttons come in 30s with an RRP of 85p each; the Cornflake Cake which comes individually wrapped in 20s, ready to thaw and serve, with an RRP of £1.40 and a mixed case of Bakewell-style 125g tarts in lemon or chocolate varieties (rrp: £1.40).