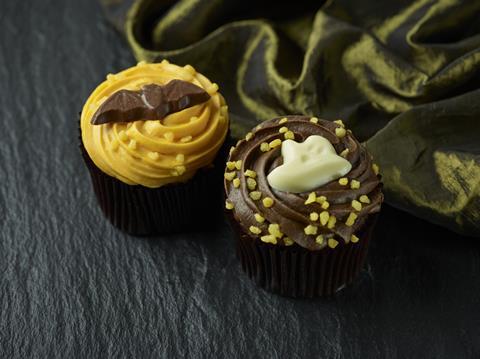 Country Choice has added three new lines to its Halloween range.
The new Halloween Cupcakes, Bat & Ghost, are made of chocolate cake and are topped with a swirl of icing and a chocolate Halloween decoration. The spooky 85g cupcakes are available in case sizes of 20 and are ready to thaw and serve. They have a shelf life of 14 days and the RRP is £1.49.
The Halloween Mallow Ghost is a 50g spooky shaped marshmallow, with sugar decoration on a sweet biscuit base. These wrapped treats come in cases of 24 and have a 14-day shelf life while RRP is £1.09.
The Halloween Doughnut Sprinkle is filled with orange and blackcurrant and topped with cocoa flakes. These thaw and serve treats are suitable for vegetarians and have a 48-hour shelf life with an RRP of £1.30.