The Co-op Group and family-run brewery Robinsons have joined forces to launch two seasonal craft beers.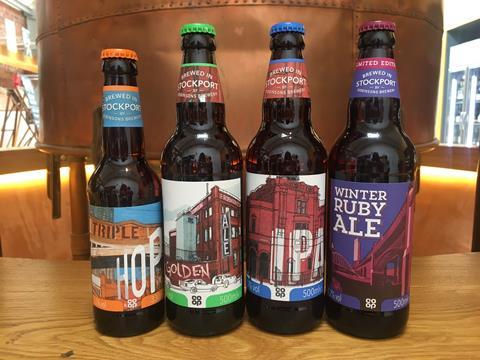 The first sku: winter ruby ale (4.2% abv) is available now under the Co-op own label. The product will be on shelf in 500ml bottles and available to Nisa and Costcutter retailers until a summer pale ale is launched in March 2020.
To create the seasonal brews, the Co-op worked closely with Robinsons' head brewer Martyn Weeks with the aim to boost its range of own brand alcohol products.
The winter ale features notes of toffee from rye and pale malts and a blend of aurora, celeia and golding hops balanced with blackcurrant fruits.
Jonathan Buckley, senior beer buyer at The Co-op, commented: "The beer customer is becoming increasingly discerning, more knowledgeable and ever more adventurous. They like to experiment with new flavours, and their choice of drinks change throughout the seasons. Working with a truly independent, family run business, with over 180 years' brewing experience, felt like a very natural fit and it's been the perfect partnership between two iconic North West businesses."
Robinsons head brewer Martyn Weeks added: "Beer is a wonderful, seasonal product. Some ales are produced all year round to meet demand, while others pop up for short bursts each year and are brewed specifically to satisfy the thirsts of the season. The Co-op beers we have produced are the latter. Winter ruby ale is a quintessential beer to enjoy in wintertime, preferably tucked up in front of a warm crackling fire. While summer pale ale is light, refreshing and drinkable, perfect for cookouts, long summer days, or cooling off after a hard day's work. The beer styles also pair particularly well with seasonal foods."
The Co-op and Robinsons first came together back in 2017 to serve up the retailer's first trio of own label craft beers: golden ale (500ml); IPA (500ml); and triple hop (330ml). The range is now part of Co-op's core offering and is available to Nisa and Costcutter retailers all year round (rrp £1.60).