Fine foods brand Clearspring is expanding its seaweed snacks line-up with the addition of new black pepper-flavoured organic seaveg crispies.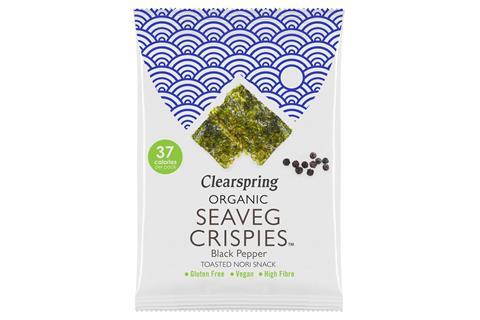 The new variant features a fiery heat and is being rolled out along with the brand's original flavour in a larger 8g size and new tray-less pack format.
The updated pack carries more seaweed, using unique technology from South Korea to create sustainable and protective packaging.
Clearspring snacks offer consumers a source of iodine, fibre and contain 37 calories per pack. The company also sells additional flavours including chilli, ginger and turmeric. All variants are organic, vegan, gluten-free and made using only natural ingredients.
Maria Dawson, commercial director at Clearspring, said: "Our seaveg crispies continue to be one of our fastest selling ranges which has grown rapidly over the past two years. The introduction of a new black pepper flavour, and the new pack format is a catalyst to help us accelerate growth and reach a much wider audience.
"The latest Soil Association Report suggests sea vegetables are one of the leading trends influencing sales of organic and plant-based foods in independent stores. Whilst health is a big consideration for a growing number of consumers, they certainly don't want to compromise on flavour. Our organic seaveg crispies harmoniously marry these winning elements - pairing the nutritious, moreish taste of nori seaweed with perfectly matched flavour combinations."
Available to independents now in 15 x 8g cases, the black pepper seaveg crispies carry an rrp of £1.99 and the original flavour has a recommended retail price of £1.59.