Chiquita Brands International is bringing back its 'We Are Bananas' marketing campaign for the 2019 summer season.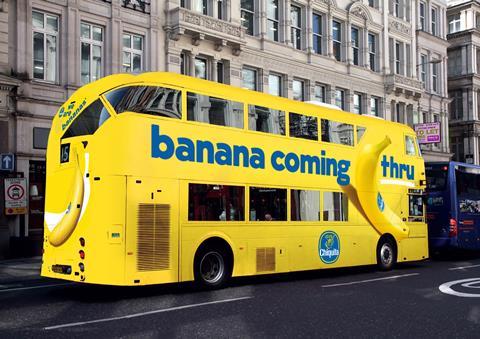 The activity builds on the success of the brand's 2018 campaign and looks to raise awareness of Chiquita Bananas amongst the brand's key target audience of UK mums and millennials.
Kicking off this month and running for seven weeks until mid-August, the activity will take place across London's bus network. Spread across buses on key routes, the 'We Are Bananas' wrap-around makeovers feature designs incorporating the brand's blue and yellow branding and slogans including 'fruit that smiles back', 'rush hour refuel' and 'travelling in a bunch'.
John Cockle, sales & market director for Chiquita Brands International, UK & Ireland, commented: "As global leaders in the industry, we're confident that our 'We are Bananas' campaign will once again put Chiquita Bananas front of mind during the key summer period and encourage consumers to 'think Chiquita' when they're making their purchasing decisions.
"Since 1944 we've been committed to providing our customers with the freshest Chiquita Class Extra bananas, so it's important that our marketing activity reflects this too – which is why we're thrilled to be launching this year's 'We Are Bananas' activity."