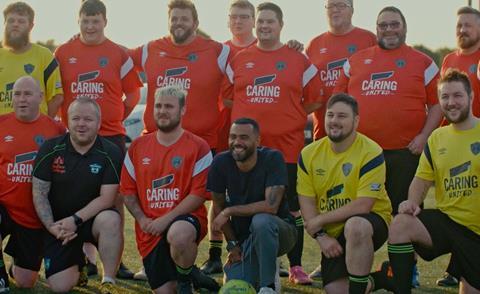 Carling and the mental health charity the Campaign Against Living Miserably (CALM) are launching a new campaign as part of their long-term partnership.
The More Than a Game campaign champions the positive role grassroots football can play in helping people to tackle everyday struggles and aims to recruit 20 clubs across the UK that embrace an open approach to mental health and wellbeing to become CARING UNITED clubs, providing accredited Mental Health First Aid Training to players, captains and managers. Former England star Ashley Cole is a More Than a Game ambassador and kicks off the campaign by sharing the stories of the first five CARING UNITED clubs to be recruited in a series of films.
Commenting on the campaign Cole said: "More Than a Game has been such a brilliant project to be part of. I've been up and down the country meeting some inspirational people who are doing amazing things in their community. It's been so good speaking to them, understanding their stories and seeing the amazing way they're using football to help themselves, empower others and build better mental wellbeing in their clubs. Football has been a massive part of my life and seeing these people using their passion to make a real, life-changing difference makes me feel proud and I hope the legacy it creates with more grassroots teams signing up will really make a difference."
Simon Gunning, CEO, Campaign Against Living Miserably (CALM) added: "Our partnership with Carling keeps going from strength to strength and their scale and reach is helping us to reach so many more people across the UK. Football has always been a massive part of CALM and its approach to reaching men by normalising conversations and breaking down the stigma around conversations about mental health and suicide. And More Than A Game does an incredible job in showing how inspirational people in their community can be and the way they can positively affect people's lives. We know grassroots football is so important in helping people get together, do what they love and feel better for it. And seeing these stories really makes it clear that football really is more than a game. Creating more Caring United teams - and having people Mental Health First Aid Trained within these clubs - helps make sure there's always someone on your side."
Carling brand director Lee Willett said: "Carling has been synonymous with football for decades, and we truly believe that football has the power to bring people together. Hearing the stories from our first five CARING UNITED teams just really brings that home. These clubs, their players, their leaders are at the heart of their local communities and making a real difference in peoples' lives. By working with these grassroots teams, we can help CALM reach directly into local communities and deliver support and advice where it can have the most impact. Being a part of this campaign and having the ability to support CALM in this way is a real privilege and something we are incredibly passionate about."
To find out more about CALM and the support it provides please visit https://www.thecalmzone.net/.