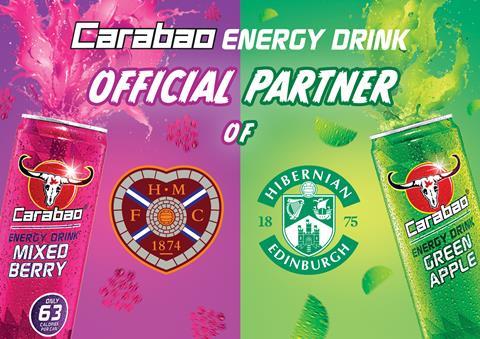 The low calorie drink is supporting Heart of Midlothian and Hibernian football clubs.
As both teams prepare for the Scottish Cup Semi Final clash later this month, Hibernian FC will be backed by the Carabao green apple flavour and their cross-town rivals Heart of Midlothian FC will be sponsored by Carabao's mixed berry variant.
The deal has been agreed for the 2020/21 Scottish football season and will see brand presence via LED and/or trackside advertising at home matches for both sides as well as enticing incentives such as tickets, signed shirts, and signed balls to be given away to loyal Carabao consumers and football fans alike.
With both teams boasting some 11,000 season ticket holders and over 200,000 followers on social media, the sponsorship will create a unique opportunity for Carabao to further drive sales in Scotland and engage with the local fans of each team.
Norrie Donaldson, head of sales for Scotland at Carabao UK&I, said: "It's an absolute honour to team up with these two giants of Scottish football and become their official energy drink partner."
"We know it's a difficult time for fans, having to watch their team from home, so we're looking forward to working with both clubs and giving fans a lift over the coming months via competitions and giveaways, whichever team they support."
The announcement emphasises Carabao's commitment to football sponsorship, adding to its title sponsorship of the Carabao Cup, which has entered its fourth year, as well as being an official Global Partner of Chelsea FC.
In Scotland, Carabao Energy Drinks are available to buy from Filshill; United Wholesale (Scotland), Glencrest, Unitas, Sugro, Confex wholesalers.