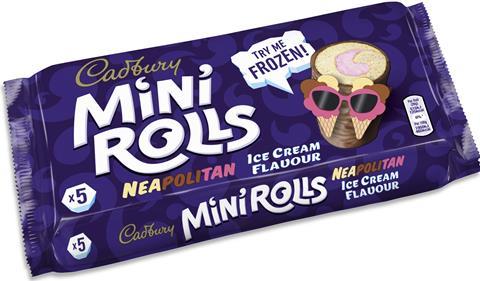 Premier Foods is bringing back Cadbury Ice Cream Mini Rolls, available in two ice cream-inspired flavours – Neapolitan and Mint Choc.
The Cadbury Ice Cream Mini Rolls range (MRSP: £1) is stocked in the ambient cake fixture alongside existing Cadbury Mini Rolls but can also be enjoyed frozen.
Mathew Bird, brand director for sweet treats at Premier Foods, said: "We are delighted to reveal the return of Cadbury Ice Cream Mini Rolls for summer 2021. They are a brilliant twist on the bestselling and much-loved range, perfect for shoppers who want to enjoy the trusted quality of Cadbury cakes in Neapolitan and Mint Choc ice cream flavours.
"Over the course of its initial launch, Cadbury Ice Cream Mini Rolls had greater appeal to under 45s and family-focused shoppers when compared to the total cakes category. Typically, sales of chocolate-flavoured cakes can drop around 9% over the summer, compared to the rest of the year, so this range is well-placed to attract a broader range of shoppers to the cake fixture as a limited edition designed specifically for the warmer weather."