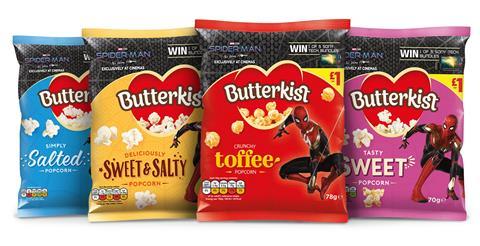 KP Snacks has announced the launch of a new on-pack promotion for Butterkist, celebrating the release of the new Sony Pictures film, Spider-Man: No Way Home.
The promotional packs feature images of Spider-Man and offer shoppers the opportunity to win prizes with purchases of Butterkist popcorn including one of five Sony tech bundles, which each include a Sony Bravia 65" smart TV, a Sony All-One Sound Bar, and Sony headphones.
Running from November 2021 until mid February 2022, the new promotional packs will be available across sharing bags of Tasty Sweet (100g), Deliciously Sweet & Salty (100g), Simply Salted (80g), and Crunchy Toffee popcorn (170g). The campaign will also run across these four top flavours in £1 PMP format.
Marketing director at KP Snacks Kevin McNair said: "The new Butterkist promotion aims to capitalise on the growth of popcorn sharing occasions. The promotion is perfectly positioned to disrupt shoppers, broaden Butterkist's appeal and bring new shoppers to the category. Driving category penetration by focusing on the fun and excitement of a big theatrical release, a well-loved character and the opportunity to win big prizes, the campaign creates a valuable opportunity for retailers to drive growth in popcorn.
"We are proud to team up with Sony Pictures on an immensely successful film franchise to drive further penetration in the popcorn category. The strong appeal of a Spider-Man movie, excellent prizes and the great taste of Butterkist popcorn will drive sales of the new promotional packs, with retailers benefiting from the excitement of consumers."