Brothers Red Apple English Cider has been launched in response to growing demand for medium and sweeter apple styles. With an ABV of 5%, Brothers Red Apple is made from Somerset apples and available in 440ml cans.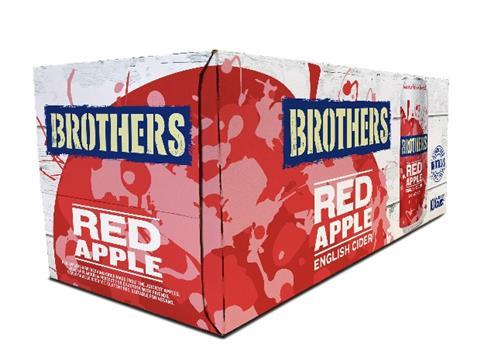 Initially launched in Asda and B&M, a brand spokesman told Convenience Store that it hopes to make it available to the independent and convenience channel in August.
Brothers reported that cider has seen strong growth during lockdown, with an additional £3m sold in the first four weeks alone, as customers moved to drinking at home.
Managing director Matthew Showering said: "Brothers is in an extremely strong growth position right now, with Gen Z and Millennials driving this with their continual search for new flavours. We have recently witnessed a change in tastes towards medium and sweeter styles and so have developed Brothers Red Apple to meet this demand, whilst ensuring we add value to the apple cider category.
"We are confident that our new, premium mainstream Red Apple English Cider will appeal to current Brothers' fans, whilst also targeting new apple cider consumers, with its sweeter, on trend flavour."