Spanish food supplier Brindisa is extending its portfolio of ambient jars with the addition of two new lines: Chickpeas with Spinach and White Beans with Vegetables.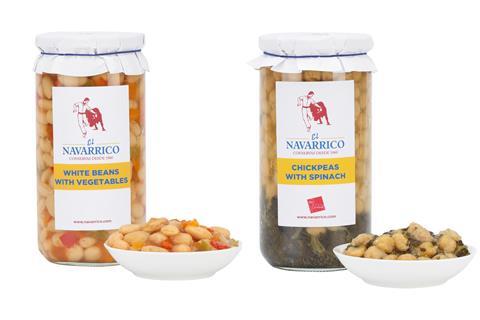 The El Navarrico range is grown in Spain by a family-run specialist of the same name and both new 700g jars are suitable for vegetarians and vegans (rrp £3.75 each).
The products will also feature in the companies new brochure, which is designed to cater to those following a flexitarian diet (currently 28% of the UK population according to Nielsen Scantrack 2018).
Monika Linton, chairman and product director at Brindisa, said: "Beans and pulses offer a rich source of fibre, protein and B vitamins. They are eaten in many Spanish dishes and have a mild flavour and meat-like texture, making them a healthy swap in stews, soups and sauces. The latest additions to the Navarrico range offer a convenient long-life solution for creating recipes without the hassle."