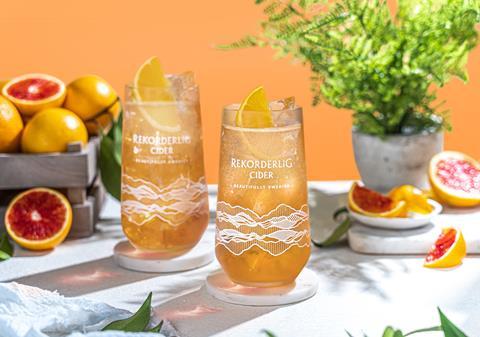 Swedish Cider brand Rekorderlig is adding a new Blood Orange Cider to its range.
The new flavour, which will be available in 500ml bottles, blends cider with juicy blood oranges and pure Swedish spring water to appeal to traditional cider drinkers particularly as summer approaches.
The new Blood Orange Cider will be supported as part of a multi-million pound above-the-line Rekorderlig brand campaign, which will include paid media, summer experiential activity, sampling and influencer activity, as well as point-of-sale activations to help retailers raise awareness in their stores.
Phil Pick, marketing controller for cider at Molson Coors Beverage Company, said: "We know people are always looking for exciting new flavours – it's what creates interest in the aisle and attracts new consumers to the category. With that in mind, we've created Rekorderlig Blood Orange Cider for those who are keen to try a refreshingly different flavour, with an exciting twist, in line with consumer trends for the year.
"This launch forms part of our strategy to continue leading the way when it comes to innovation by tapping in to the latest trends, and drive growth in the premium fruit cider category. We will continue to explore new ways we can grow our portfolio to deliver further sales for our customers."