Birds Eye is celebrating its sustainable sourcing credentials with the launch of an on pack promotion for its Fish Fingers and Coated Fish ranges.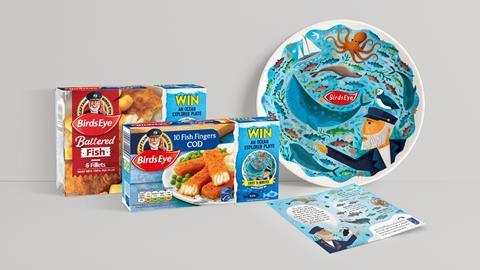 Designed to raise awareness of the brand's 100% MSC and ASC labelling across its entire portfolio, the campaign kicks off on 2 September with more than 4000 Ocean Explorer ceramic plates and informative Ocean passports available to be won*.
Families will also be invited to find out more about sustainable fishing through the Birds Eye Fish Provenance Tool – a website that follows the journey of the brand's fish from the ocean to their plates. The activation will be supported with a multi-channel campaign, spanning TV, digital and PR.
Steve Challouma, marketing director at Birds Eye, said "As the biggest brand in the UK when it comes to certified sustainable and responsible seafood sourcing, our 'Follow the Fish' campaign forms part of our on-going mission to drive awareness around the importance of responsible fishing.
"Our work with the Marine Stewardship Council (MSC) has never been more important in future proofing our oceans and the marine life that lives within them, and winning the MSC Frozen Brand of the year award for the sixth consecutive year demonstrates our global commitments. We've realised our aim of having 100% of our fish portfolio in the UK MSC labelled or ASC labelled, and we really want consumers – who are increasingly concerned about sourcing transparency - to feel inspired by our own commitment."
Challouma added: "We're also encouraging shoppers to use our Fish Provenance Tool to follow their fish through its journey, learning more about where it came from as well as sharing information on how we safeguard and protect the world's oceans and source fish and seafood responsibly."
The promotional packs of Birds Eye Fish Fingers and Coated Fish are available for independent retailers and convenience stores to stock now.
*A prize draw will take place every 15 minutes between 8am and 8pm until 24 November. Late draw scheduled for the end of February 2020.