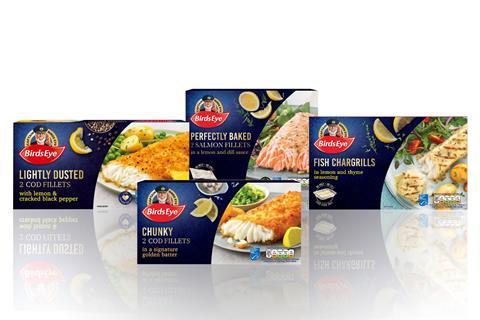 Birds Eye is relaunching its Inspirations frozen fish range, which will now trade under the new Captain family portfolio.
Commenting on the rebrand, Rebecca Nascimento, general marketing manager at Birds Eye UK, said: "This isn't a move that we have taken lightly. We've invested heavily in research to ensure this is the right move for the brand and our customers. The Captain is our most distinctive asset – he's the number one food icon in the UK [One Poll research, 9 – 11 August 2017].
"In celebration of his 50th anniversary last year, a contemporary-looking Captain stepped onto the deck revealing a genuine, authentic side of the character, which has helped to capture the imaginations of a modern generation.
She added: "With our new frontman in place, it's now the right time for us to bring the Inspirations range into the Captain's fold - elevating frozen fish through a new premium positioning and providing families nationwide with real food, simply made but with an inspired twist. What's more, the range will benefit from the halo effect of our £7m marketing campaign."
The new look fish range, made using fresh ingredients, is rolling to independent retailers over the comming weeks with additional lines in the pipeline for the rest of 2019.