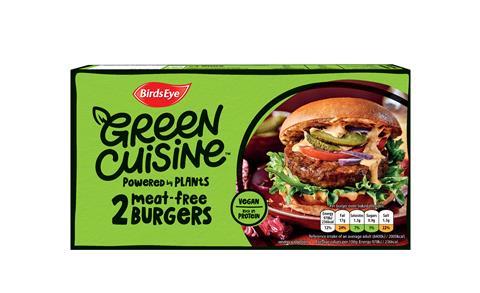 Birds Eye is relaunching its meat-free Green Cuisine brand with a new advertising campaign.
The £4.4m 'Welcome to the Plant Age' campaign worth reveals a distinctive new identity for the brand with the introduction of new animated characters and is Green Cuisine's biggest 360 campaign to date including TV ads, new packaging, instore support, PR and OOH advertising.
The new campaign launches in the UK across TV and digital today, with the new packaging, PR and out-of-home rolling out from August onwards. A new website celebrating the brand's new identity can be found at www.green-cuisine.com.
The Green Cuisine range includes chicken-free dippers, meat-free burgers and fishless fingers as well as veg-packed options, including veggie fingers.
Elle Barker, marketing director on Green Cuisine, said: "Our new brand platform plays off the insight that choosing plant-based foods can sometimes feel like a compromise, even though there are so many benefits to including more meat alternatives within our diets. Our vision is to make a flexitarian diet accessible to all and with the help of new animated characters who challenge the way we think, Green Cuisine can demonstrate just how easy, delicious, and nutritious it can be to incorporate plant-based options into everyday meals."