Shaken Udder is making space in its milkshake range for a new Ooh La Latte variant and large Strawberries & Clotted Cream bottle.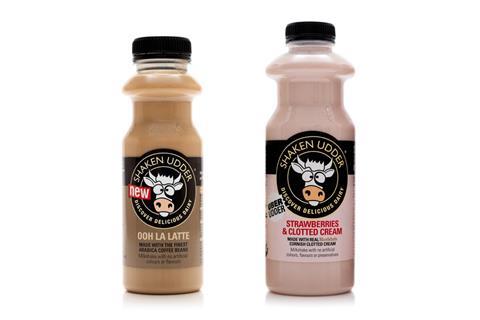 The brand's Ooh La Latte is a new milkshake aimed those looking for an on-the-go coffee-flavoured drink that is nutritionally balanced.
Available in 330ml bottles, the new variant is made using Arabica coffee beans and blended with British semi-skimmed milk. The product is also gluten-free, suitable for vegetarians, contains less than 5% sugar and no artificial colours, flavours or preservatives (rrp £1.35).
Alongside Ooh La Latte, Shaken Udder is also expanding its Uber Udder range, with the launch of a 750ml version of its Strawberries & Clotted Cream milkshake.
Made from British strawberries and Rodda's Clotted Cream, the flavour is one of the brand's most popular and will carry an rrp of £2 - £2.40 in the new larger format.
Commenting on the introduction of the new products, Andy Howie, co-founder of Shaken Udder, said: "A coffee variant has been on the cards for some time and is a perfect fit for those consumers looking for a drink that delivers on both flavour and function. Equally, our Uber Udder range is so popular with ardent fans so being able to expand this with one of our most popular flavours is fantastic."