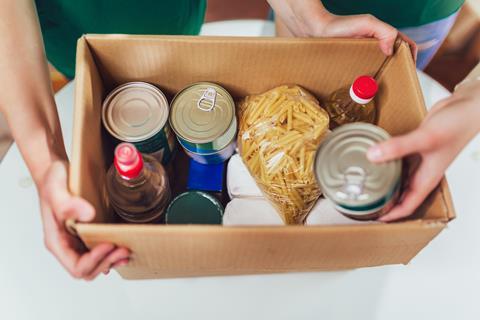 Ben's Original and Dolmio are to partner with the Trussell Trust for the second year in a row to raise awareness of food poverty.
Part of the wider Mars Food Purpose – Better Food Today, A Better World Tomorrow campaign, the partnership aims to help give everyone access to nutritious meals and to champion the benefits of shared dinnertimes.
A study of 1,000 school-aged kids, commissioned by Ben's Original, found that despite eating their last snack or meal as late as 7:02pm, 67% claim to have gone to bed feeling ravenous, while 88% wake up feeling hungry the next morning. It also emerged that 12:05pm – just ahead of lunch – is the time children are most likely to complain about needing something to eat.
Children surveyed for the report said this has a huge impact on their day-to-day life, with 39% of children saying they feel moody, tired (34%) and get easily distracted (26%) when they are hungry.
Through the partnership with the Trussell Trust, Ben's Original and Dolmio will Stand Against Hunger for UK families, by donating £100,000 to support the 1,300 foodbanks in their network across the UK and encourage everyone to support the Trussell Trust.
The campaign is supported by branded packs of Dolmio that are available in store now, as well as instore activations. A film featuring food bank volunteers, to showcase the work that the Trussell Trust does, will also be going live across Dolmio & Ben's Original social channels.
Giulia Somma at Mars Food UK said: "We believe everyone deserves a seat at the table and no one deserves to go hungry. We've teamed up with Trussell Trust to support their 1,300 foodbanks and help give everyone access to the meals we all deserve. It's also important that those in need get all the advice and support they need to support themselves and their families."
Director of Research and Policy at the Trussell Trust Garry Lemon added: "Every parent knows what it's like to be told their child wants another snack, but imagine how hard that must be for parents struggling to afford the essentials. Food banks hear heart-breaking stories each week of children and adults facing hunger because there just isn't enough money to put food on the table. This isn't right. We need to work together as a society to take a stand against hunger in the UK and make those changes that would mean we can all afford the essentials. We're very grateful to Mars Food for their support, which helps us support food banks and work towards a future where everyone has enough money for the essentials."