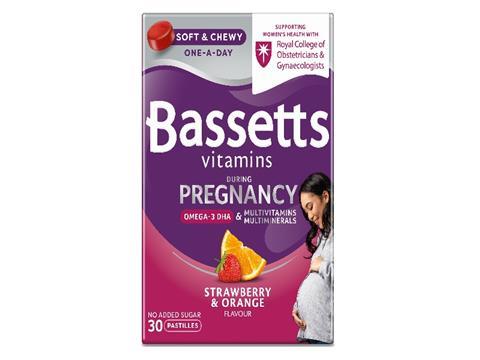 Bassetts Vitamins has launched a new line-up of adult vitamins including: Pregnancy, Woman, Man, Woman 50+, and Man 50+.
Available from November, the launch marks the first new additions to the Bassetts Vitamins adult offering since their first adult product launched in 2015.
The new range aims to cater to audience demands for "an effective product that cuts through the complexities of a category that often leaves shoppers confused and inundated with unfamiliar terms".
Each pack contains 30 pastilles. Woman, Man, Woman 50+ and Man 50+ are available for £12 (RRP). The Pregnancy product is available for £14 (RRP). The launch will be supported by a comprehensive marketing plan including out of home, digital advertising, PR and a social media campaign. In addition, as part of the launch of the new pregnancy product, Bassetts Vitamins and the Royal College of Obstetricians and Gynaecologists (RCOG) have announced a partnership to demonstrate their mutual support of women's health, focused on good maternal nutrition during pregnancy.
Marketing manager from Bassetts Vitamins Skye Walter said: "Bassetts Vitamins Adult Multivitamins is the most popular branded product for adults on the market¹. We know that even as adults our nutritional needs change throughout our lives so we also wanted to offer consumers a more tailored range to meet their needs. However, talking to shoppers, we know that many find the vitamins category pretty complex, so we set out to create a range that gives consumers just what's needed in a supplement at each life stage but without the complexity. We can't wait to see consumers' response to the new range and hope they find it easy to navigate amid a busy category."